Are you looking for customizable cleaning services performed and managed by trusted industry professionals? Crown Inc. Commercial Cleaning has been providing cleaning services to facilities across Colorado since 1997.
We have experience managing cleaning contracts with a multitude of businesses such as offices, hotels, retail stores, medical facilities and industrial facilities. When you partner with us, we promise to use top of the line cleaning products and disinfectants.
With no hidden fees and adjustable plans, we can meet all your cleaning needs. We're here to help your business run smoothly and make sure you're taken care of. We won't stop until the job is done right!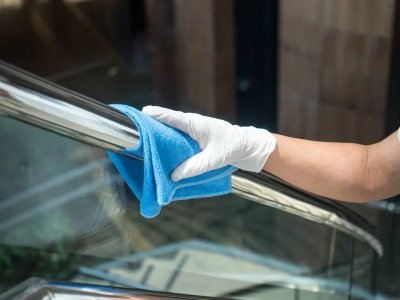 We offer a wide range of benefits and services to our clients.
Customizable Cleaning Plans
for offices, hotels, restaurants, retail, as well as medical, industrial and government sites.
Our cleaning plans are completely customizable so each client can be assured that they're getting services tailored to their specific needs. These plans can also be changed with services added or removed at your convenience.
Offices and Hotels
We work with you to create a customized schedule to best meet your needs. With these services, we can provide building cleanings 7 times a week and make rounds 3 times a day. Whatever you need, and however often you need it, we can make it happen! From cleaning and sanitizing desks to refinishing floors, we have your office cleaning needs covered. We can create a schedule that itemizes what we do on a weekly, monthly, or quarterly basis. You will always know what is being cleaned and when.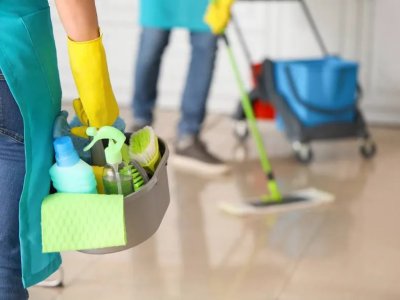 Retail and Restaurant
For our retail clients, we go in an hour or two before the store closes and generally stay an hour after closing. Our goal is to finish the work so everyone can go home. We'll clean everything in retail spaces such as dressing rooms, the sales floor, office areas and break rooms. In restaurants, we'll clean the front of the house and provide extra sanitation. We can also provide wax stripping services, carpet shampooing, window cleanings, and more. We will work with you to create a schedule you are happy with!
Medical, Industrial, and Government Site Disinfecting
Your safety has and will always be our number one priority which is why we use the best in disinfecting technology. We use an electrostatic sprayer and Perisept, a concentrated disinfectant that doesn't use bleach. It kills over 50 known pathogens including, C. difficile, Staphylococcus and Escherichia coli. Perisept is a favored product because it can be used on finished floors and combines the cleaning and disinfecting process to save time. It has a one-minute kill time and leaves no film or residue when it dries.
Once we spray the room and it dries, people can enter the room within an average of 15 minutes of its application. Using Perisept along with the electrostatic sprayer, you can trust that your facilities will be cleaned in a fraction of the time as they would be with conventional methods.
Benefits of Working with Us
Customer Service
We pride ourselves on our exceptional customer service. We make sure to check-in with you so that we're on top of all your needs and address any issues quickly. Because of our customized plans, you'll be getting a unique service specific to you and your facility's needs. If you need to change your plan we make that happen quickly and effectively. Our customers also never have to worry about hidden fees on their invoices. Our pricing is straightforward, and you will always know exactly what you will be charged.
Pricing and Billing
We follow industry pricing standards and offer detailed and itemized invoices, so you know exactly what you're paying for. Fees can be adjusted based on emergency cleanings, one-time add-ons or service substitutions.
Employee Insurance
We respect and protect our customers and workers equally, which is why all our cleaners are insured. This protects your facilities against general liability, destruction, dishonesty, as well as disappearance crime insurance and lost key insurance. The insurance program also covers workers' compensation.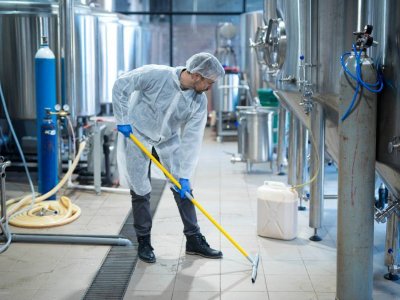 Protocols and Training
We have training and protocols in place that all our employees must follow. Our employees are trained carefully on your alarm and security systems, so you can rest assured knowing that your facility is not only clean when we leave, but secure.
Our team conducts their tasks efficiently and with care, so you never have to worry about damages or cutting corners. They're also instructed to notify you of any issues with plumbing, lighting and security they may encounter while they're working.
About Crown Inc. Commercial Cleaning
Crown Inc. Commercial Cleaning is here to make things easy for you. We make sure all your cleaning and disinfecting needs are met based on your schedule and to your standards. We don't expect you to pay until you're satisfied with the job.
We are proud of the services we offer and are always learning about and adapting to changes in industry standards. We use high-quality cleaning and disinfecting products that are safe and effective.
Our wide range of services, customized to your needs means that no task is too big for us to handle. We've been providing quality cleaning services to a variety of clients such as hotels, retail stores, restaurants, office buildings and medical faculties for more than two decades.
Contact us now to learn more about how we can help you today!