Ensuring your restaurant is always clean is crucial to maintaining and prioritizing food safety standards. Restaurants and other businesses are required to follow certain food safety laws. These laws exist at both federal and local levels.
It also goes without saying that having a high standard of cleanliness in restaurants means good business for you. You'll have high customer retention, which essentially growing your revenue and success.
Having a detailed restaurant cleaning checklist can help you maintain a clean and hygienic restaurant. A good checklist is one that includes everything from kitchen cleaning to dining room and front-of-house cleaning and everything in between.
Important Terms
There are different steps to cleaning and different ways to ensure that areas are sanitized. Keep in mind the following terms when making use of the checklist:
Cleaning: Removing dirt, soil, and any chemical residues from utensils, equipment, and work surfaces.
Sanitizing: Removing harmful pathogens from surfaces. You should only do the sanitizing after you've done the cleaning.
Manual Cleaning: Cleaning using a sink or bucket with detergent dissolved in water.
Now that we've nailed down the terminology, the following is a detailed restaurant cleaning checklist to get you started.
Front-of-House Cleaning Checklist
First impressions matter! The curb appeal of your restaurant can determine whether or not people come in. Ensuring it's clean and properly maintained is key to providing a safe and healthy experience for your customers.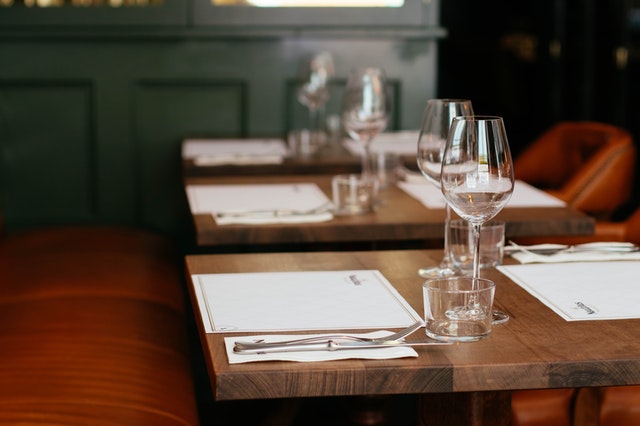 Of course, a customer expects various things when they come to your restaurant. A customer also expects that the restaurant environment to be tidy, clean, and inviting. Therefore, maintaining restaurant cleanliness is vital.
An unclean restaurant is undoubtedly a turn-off to customers, as such, it'll hurt you bottom line. That's where cleaning checklists comes into play.
It can help you have a plan on how to clean your restaurant on a daily, weekly, and monthly basis.
Daily Cleaning Tasks
To ensure that your restaurant is clean and meeting all safety standards it's important to clean the following areas every day:
Clean the floors. Sweep and mop them and vacuum the carpets
Clean the walls manually whenever necessary
Clean the counters manually as necessary
Clean then sanitize the railings, door handles, and elevator buttons/access buttons
Wipe down all the counters and stainless steel surfaces
Clean and sanitize the dining tables
Clean the seats and benches manually
Empty out the trash bins and recycling bins
Clean and sanitize the menus, credit card machines, and condiments, salt and pepper shakers and other equipment
Wash the tablecloths, aprons, and cloth napkins in the washing machine
Cleaning specific to the restrooms:
Clean and sanitize railings, door handles, and other restroom surfaces
Empty out trash cans and dispose of all garbage this include the feminine hygiene containers
Sweep and mop the restroom floors
Disinfect the toilets
Clean the restroom sinks manually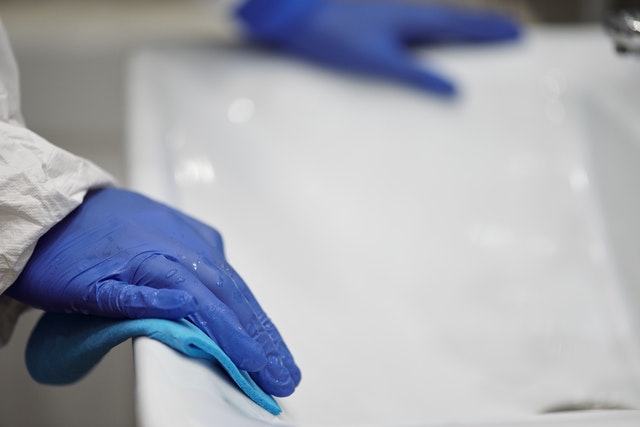 Weekly Cleanings
These tasks don't necessarily have to be done every day, however, they should be done on a weekly basis at a minimum:
Disinfect the front door handles
Wash windows and doors
Dust and wipe down the light fixtures
Monthly Cleanings
On monthly basis you should be taking extra time to incorporate these into your cleaning schedule:
Clean all the walls manually
Dust the items hanging on the walls, for example, decorations
Check and remove any cobwebs on the ceiling
Restaurant Kitchen Cleaning Checklist
This is inarguably where the most food safety risks are bound to occur. As such, following a kitchen cleaning checklist is key to ensuring food safety.
A clean restaurant kitchen is not only required by law, but it's also key in preventing food contamination. Food businesses are inspected by local health inspectors on a regular basis. If your food business isn't abiding by the health codes, you risk getting fined or having your business shut down.
Generally, you must ensure anything that comes into contact with food is clean and sanitized regularly.
Luckily, the following cleaning checklist can help keep your restaurant kitchen clean at all times.
Daily Cleaning Tasks
Sweep all the storage areas and clean the floors by sweeping and mopping them
Sweep the walk-in refrigerators
Clean and sanitize all trash cans, especially when used heavily or for high-risk foods
Clean and sanitize sinks that are used for food preparation and flatware, utensils, and glassware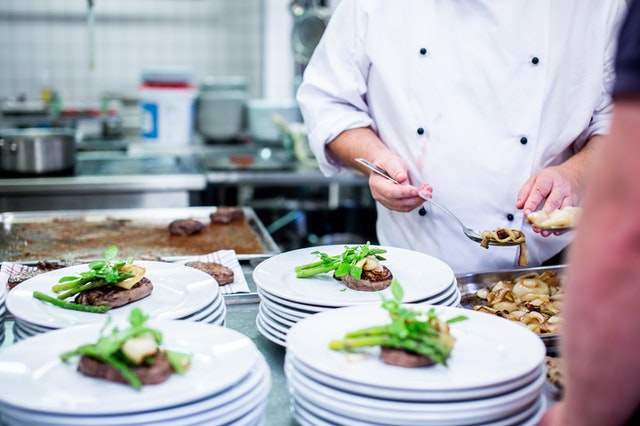 Clean and sanitize walls where food splattering has occurred
Clean tips of soda dispenser guns and heads of beverage dispensers
Manually clean all the equipment like toasters and microwaves, and cooking surfaces like fryers and ranges.
Change the foil lining on top of ranges and grills
Refill soap dispensers
Wash aprons, towels, and uniforms in the washing machine
Weekly Cleaning Tasks
To keep your kitchens clean, you should:
Manually clean lime from the faucets and sinks
Clean and sanitize freezers and walk-in refrigerators
Clean and sanitize the interior and exterior of garbage cans if you don't do so daily
Manually clean the deep fryer, ovens, and all the floor mats and drains
Empty out all the garbage cans. You should do this at least two times a week.
Monthly Cleaning Tasks
Manually clean walls, ceiling, vent hood, and behind the hotline
Empty the grease traps
Manually clean the refrigerator coils
Empty, clean, and sanitize the ice machine
Summary
Cleaning and maintaining a commercial kitchen is only half the work in your Colorado restaurant. Keeping it immaculate is crucial to passing an inspection and ensuring your kitchen continues to run in great shape.
Are you looking for professional cleaning services in Colorado? If you are, Crown Inc. Commercial Cleaning can help. We have been operating in Colorado since 1997. We'll customize our cleaning services to meet any need you presently have!