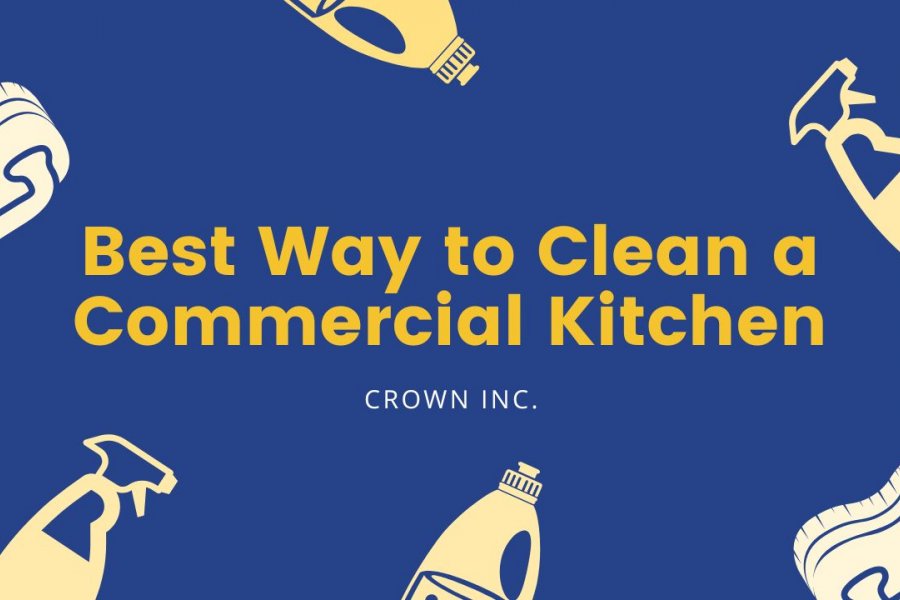 If you have a food business, whether it be a caterer or restaurant, it's vital that your commercial kitchen maintains clean and sanitary. Aside from the orderly appearance of a neat kitchen, it also makes the place sanitary and ensures that all the health and safety are being met. Thus, commercial cleaning should be a priority.
There are several options available to you to clean a restaurant kitchen. To avoid feeling overwhelmed, it's best to make a division of the tasks and do it step-by-step so you can cover every space. Remember that the more hands helping out, the more efficient the cleaning is.
Doing everything on your own will far too much time. You can also subject yourself to safety hazards if you're not cautious or experienced in cleaning a commercial kitchen. A recommended route is to contact a professional cleaning company, such as Crown Inc. Commercial Cleaning.
The following is what you need to know about cleaning a commercial kitchen effectively:
Kitchen Cleaning Tools
To get started in cleaning a commercial kitchen, you must have the following equipment:
Microfiber cloths
Mop
Dustpan
Brush
Cleaning gloves and masks
Cleaning Disinfectants
Vacuum cleaner
Frequency of Commercial Kitchen Cleanups
For commercial kitchens, the frequency of the cleanings depends on how the kitchen is used and what type it is. If you have a large restaurant and the kitchen is heavily utilized, then daily simple cleaning is required and weekly deep cleaning is advisable.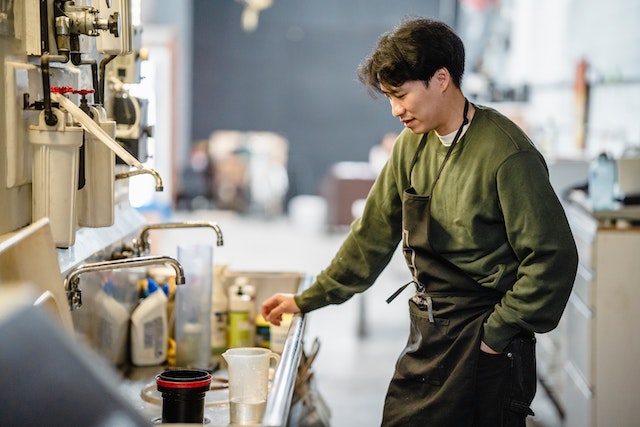 It's important to keep in mind that the kitchen has different parts with unique cleaning needs. For instance, kitchen surfaces and utensils end up dirty everyday, so it's vital to keep them clean daily. This holds true for sinks, counters, and stoves, among others.
For those items that aren't dirty as often, like refrigerators, containers, and ovens, cleaning can be done every week or every two weeks, depending on the frequency of use. That said, if you spot a problem it's best to adapt your cleaning schedule to ensure that you're meeting all safety codes.
Cleaning a Commercial Kitchen
To be efficient at cleaning the kitchen, breaking down the big job into smaller parts can simplify the chore. You can start by cleaning the surfaces first, then the floors. Next, you can proceed with cleaning the sink, dishwasher, ovens, refrigerators, microwaves, carpet, and the rest of the kitchen areas. Lastly, you can disinfect the key touchpoint areas.
You can also schedule a weekly or monthly deep kitchen cleaning so all the dirt and germs from your kitchen area are thoroughly removed. Make sure to address the following:
Surfaces
Hard surfaces, such as kitchen counters, shelves, and walls tend to gather a lot of bacteria if you fail to clean them properly. Clean them using a high-quality sanitizing spray.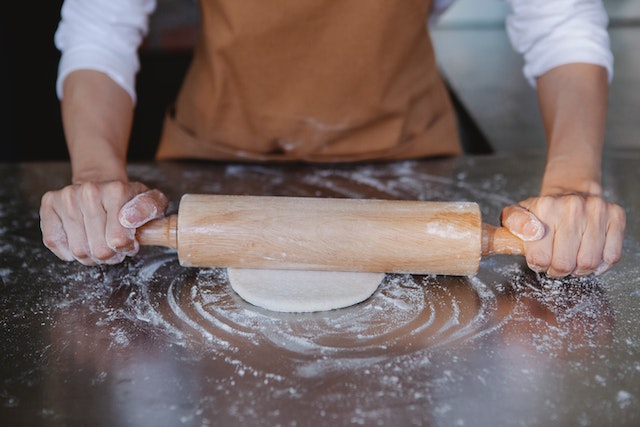 Before you begin, ensure that all items are taken away. Wipe the surface areas with a clean microfiber cloth and make sure to use a good cleaner and disinfectant.
Floors
Considered the dirtiest region of the kitchen, floors must be your main focus. Take into account that the restaurant workers cross the floors all throughout the day. Moreover, food gets spilled numerous times, resulting in stains and build-up when ignored.
When cleaning kitchen floors, high-grade professional cleaners and special equipment must be used for maximum efficiency. It's recommended to use a multi-purpose cleaner when cleaning up the floors of the commercial kitchen.
When it comes to areas that are hard to reach, you can opt to clean manually and use the broom and mop. Sweeping and mopping can accomplish the job of eliminating dirt and dust.
Grease on the Floors
Grab a paper towel or cloth to remove the grease on the floors. You can use a kitchen degreaser and when the stain loosens up, you can proceed to wipe it with a paper towel or cloth. It's recommended to get rid of the stains or grease, prior to sweeping or mopping.
Sinks
Given that the sink can hold a stockpile of dirty dishware and utensils, including food leftovers, it can be the ideal spot for germs if it's not well-maintained.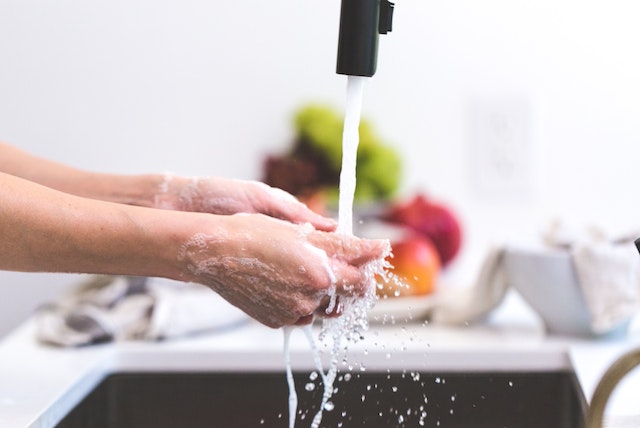 After closing the restaurant to customers, it's crucial to clean and disinfect the sink entirely with an outstanding commercial cleaning product. Remember to avoid pouring any oil or grease on the sink, so clogging doesn't occur.
Dishwashers
Use soft water, a multipurpose cleaner, or detergent for dishwasher cleaning. Dishwasher cleaning is done manually by scrubbing all its parts. The door of the dishwasher must be left open afterward to dry.
Ovens
For ovens, rely on professional kitchen cleaners since they know the right products to use and the techniques to make the cleaning more efficient. You can tell if the kitchen oven is in dire need of cleaning since heavy smoke is visible.
Refrigerators
Due to the large size of kitchen refrigerators, cleaning must be performed at least once a month and they must also be handled by professional cleaners.
Microwaves
Ensure that both the inside and outside of the microwave is cleaned. Stains can either be handled manually or with a cleaner. Ensure it's wiped dry after.
Carpets
For kitchens with carpets, daily vacuuming is required to remove dust and dirt. Schedule carpet steam cleaning weekly or monthly or have it professionally cleaned to maintain it.
Cleaning of Other Kitchen Areas
The other areas of the kitchen that are often ignored should also be given attention, such as the shelves, walls, and windows. Routine cleanup is required.
Touchpoint Cleaning and Disinfection
Contact points and surfaces must be given the necessary cleaning. Make sure to disinfect the door handles, light switches, countertops, and doors of appliances that are commonly used with top-quality sanitizer.
Bottom Line
Regularly cleaning your commercial kitchen will ensure that your business is meeting all safety and health standards. If you're a restaurant owner seeking a trusted professional cleaning company, contact Crown Inc. Commercial Cleaning today! We're always looking to serve our customers well, with a top-trained staff delivering effective and safe cleaning.