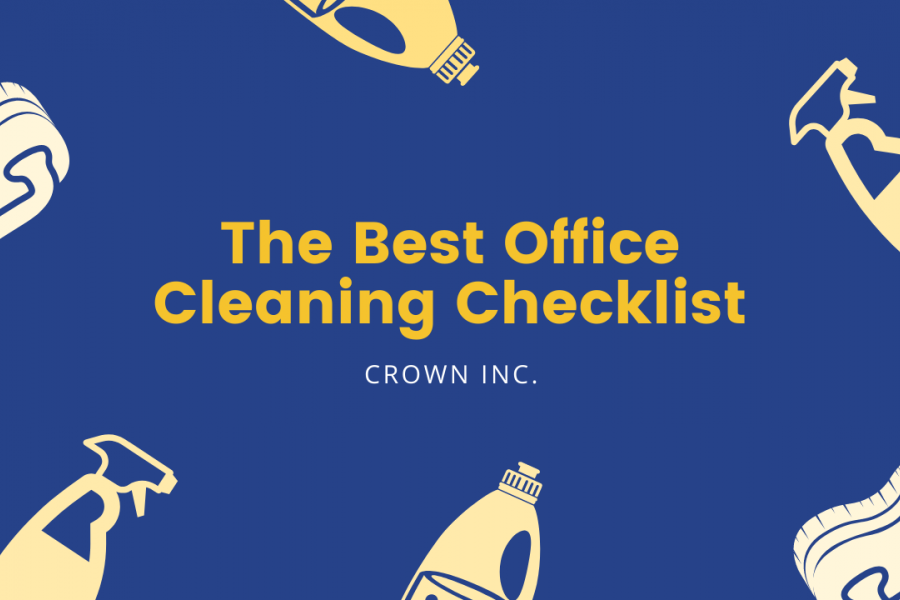 If you're like most people, if you aren't at home, you're at the office!
So, naturally, you want an office space that's clean. This measns one that is orderly and tidy. Working in a neat office has many benefits. For instance, it can help you be more productive, it can create a healthy space and it can enhance mental clarity.
However, you may be wondering: how can I keep of my office clean? Well, we recommend doing so regularly! Either your office team can begin a clean-up program or you can hire professionals to tackle the maintenance and cleaning tasks and procedures.
If you choose to clean on your own, we thought it would be helpful to offer you the ultimate office cleaning checklist! So, in this post, we are providing an office cleaning checklist that thoroughly covers different areas of an office.
Let's get into it!
Office Cleaning Checklist for Desks and Cubicles
This is where you do most of your work, so it's crucial that it remains tidy.
Here are some of the cleaning tasks you can do to prevent germs from spreading:
Wipe computer screens.
Brush off the dust accumulating in the keyboards.
Vacuum and mop hard floor surfaces, including under the chairs and desks.
Clean office windows and glass surfaces.
Empty the trash receptacles.
Dust off tables, desks, shelves and other hard surfaces.
Disinfect gadgets and furnishings, such as keyboards, copiers, lamps, phones, office tools and office filing cabinets.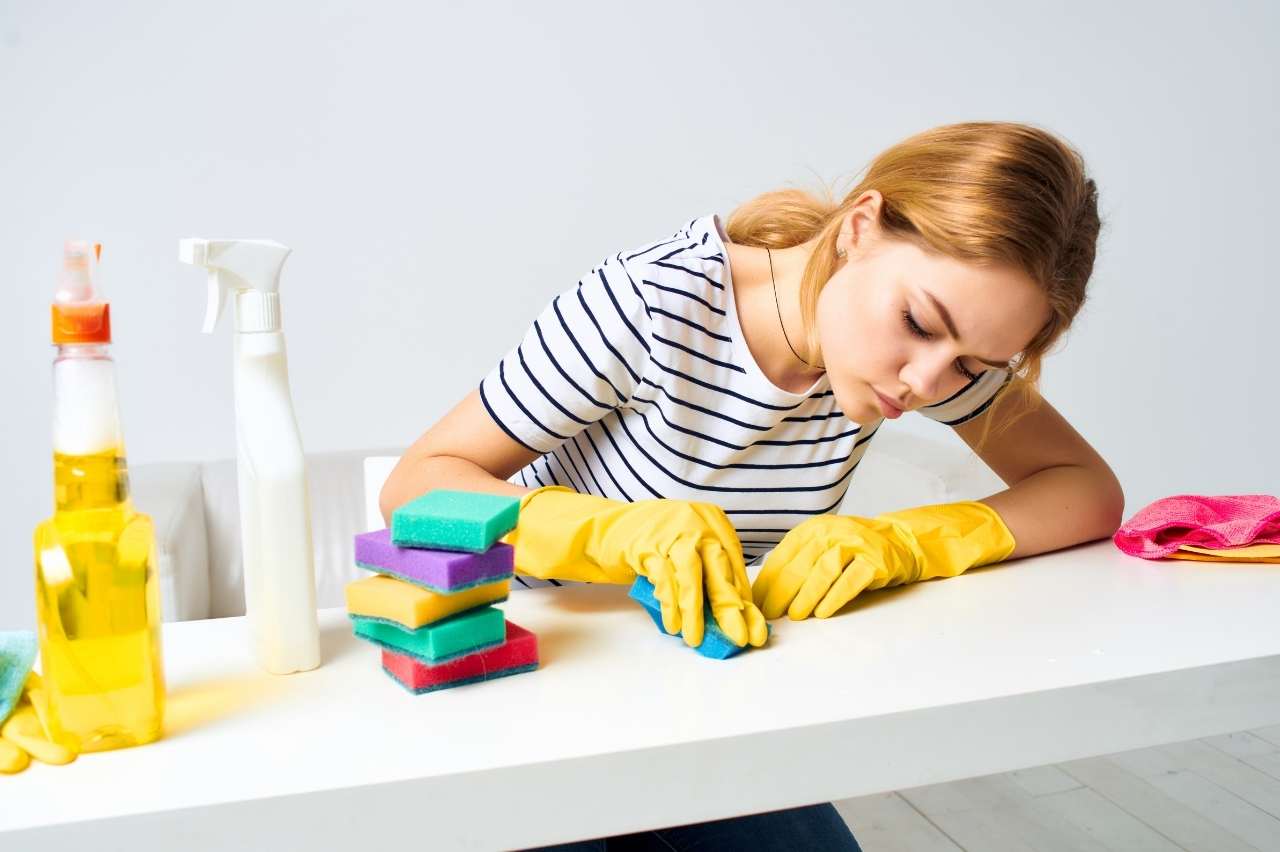 Office Cleaning Checklist for Pantries and Break Rooms
Employees frequently gather in the pantry area and break rooms, so it's vital to do the following tasks:
Empty and disinfect trash receptacles.
Throw away food packaging, leftovers, and expired food left in cabinets.
Clean and store utensils and dishware safely.
Tidy the refrigerator and discard spoiled food.
Wipe and disinfect the fridge, including the refrigerator handle.
Throw away used coffee grinds and clean the coffee pot.
Focus on the counters and tables where people dine and prepare their food.
Wipe the microwave and toaster appliances.
Disinfect the doorknobs.
Office Cleaning Checklist for Reception and Waiting Areas
Often, offices have a receiving area for guests and clients. This area must look neat and attractive since guests and clients' first impressions are important!
So, you should:
Organize papers on the reception desk and keep it clean.
Dust the desk and waiting room tables.
Empty trash cans.
Arrange the coffee table books and magazines in the waiting area.
Clean the coffee machine (if there is one).
Ensure the water cooler has enough water supply and enough clean water cups.
Aim to clean the carpet every 3-4 months.
Disinfectant high touch points, such as phones, screen monitors, lamps and buzzers in the reception area.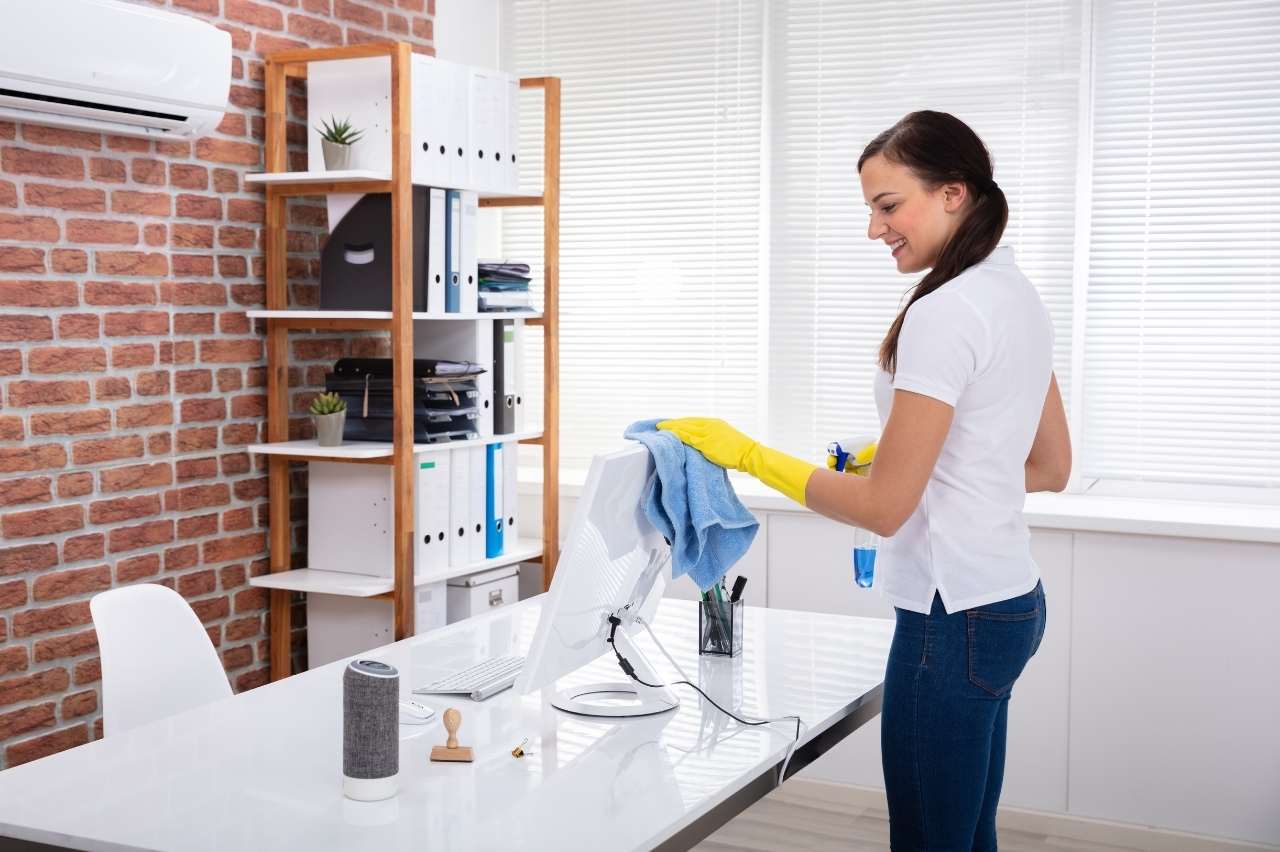 Office Cleaning Checklist for Bathrooms
Bathrooms are frequently used at offices. That's why it's important to:
Disinfect and clean the toilets.
Clean the sinks.
Refill soap dispensers.
Refill the paper towel dispensers.
Replace toilet paper rolls and paper towel rolls if there are none left.
Empty the trash bin.
Wipe the mirror clean with the help of a glass cleaner.
Sweep the garbage off the bathroom floors.
Mop the bathroom floors.
Ensure the hand dryers are functional and fix them if they're not properly working.
Disinfect the bathroom doorknobs.
Cleaning Checklist for the Outside Area of the Office
It's also important to ensure the outside areas of your office are getting your proper attention as well.
Thus, it's important to:
Empty the outdoor trash bins to remove any odor and unsightly pests.
Keep the landscape neat by trimming bushes and removing overgrown branches.
Inspect welcome mats for cleanliness.
Clean the glass doors and windows.
Ensure that windows look shiny and free from dirt and unsightly streaks.
Sweep fallen leaves, branches and all types of debris found on the sidewalk or located near the front door.
Inspect the parking area.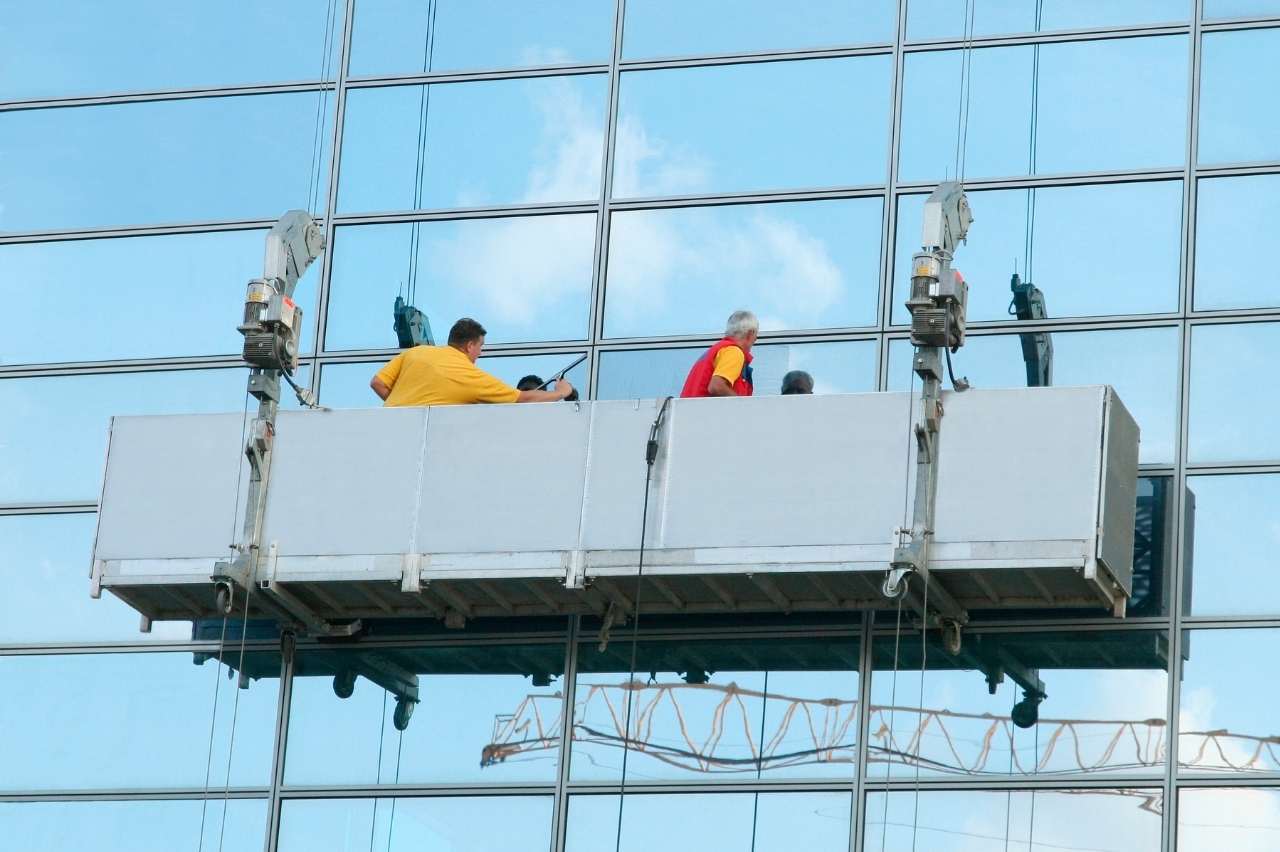 Hire Professional Cleaners
If you don't want to add cleaning your office on your to-do list and have these extra responsibilities, your best option is to hire a professional commercial cleaning service company.
A commercial cleaning service company will:
Spare you from the tedious task of deep cleaning
Help you save precious time
Ensure your office remains safe and hygienic for employees and guests by cleaning it thoroughly and efficiently
At Crown Inc. Commercial Cleaning we offer professional cleaning services and cater to your schedule. We customize our cleaning services according to your office needs. Most importantly, we offer genuine transparency with our cleaning fees. The figures will be accurate, priced correctly and fit the industry standards.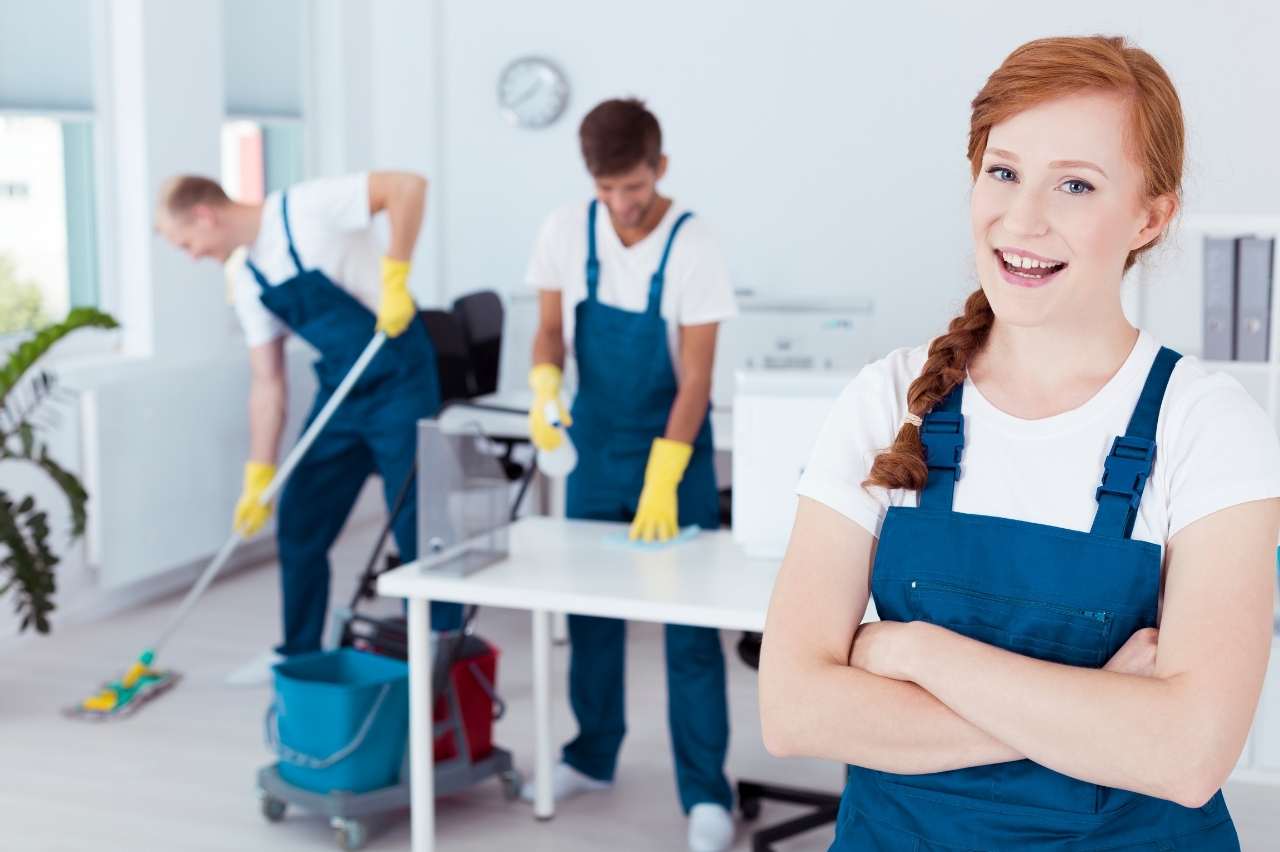 Bottom Line
By following our ultimate office cleaning checklists, you will be able to clean every area of your office!
However, although this checklist is simple and easy-to-follow, carrying out the tasks on your own may still prove challenging. It takes a lot of time and many supplies to do a good job. Not to mention, these supplies can be quite costly and require maintenance, fixing and replacing. Aside from that, you also need a proper area to store them.
So, if you want help with this tedious responsibility, hire a professional and reputable cleaning service company like Crown Inc! We offer office cleaning services in Colorado Springs and surrounding areas.
Contact us today!